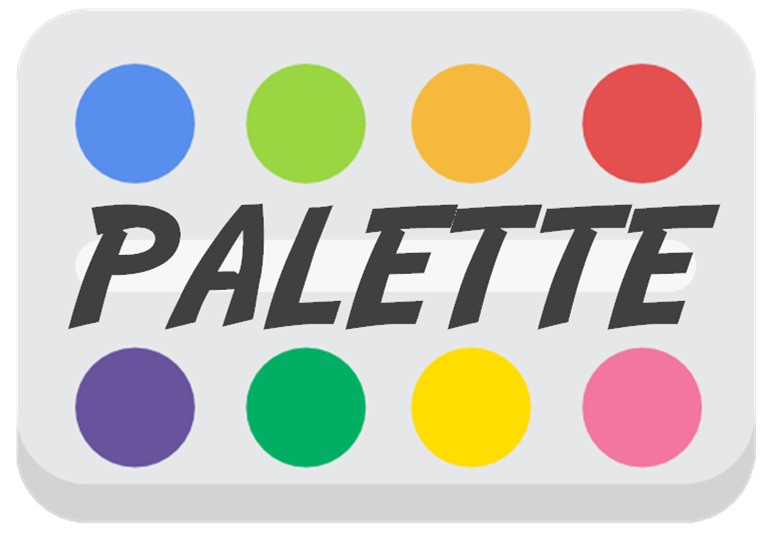 PALETTE
This game was create for the Jam #5 of Game Codeur.
The theme to respect was : a finger game.
The challenge was to succeed to promote our game to a famous youtuber ... : I fail ! problem of organisation : I've just finish my dev (one day before the countdown .... ) ouuch !! .
I will do better next time ! I will try anyway ;-)

I use Phaser to implement the little game.
______________________________________________________________
Your goal is :
to have a look to the paint drop
about 2s it will dissaperd,
and 5 dots will come on screen
choose the one with the same color of the previous paint drop
if you've right, you will continue
if not => Game over
Becareful, a quick countdown increase a little bit the pressure ;-)
Home you'll enjoy this simply little game.
---
- Elève premium de Gamecodeur
- Langage/Framework : Phaser.

- Code et Graphisme par ... mes soins.
- Bruitage : depuis ma petite banque de ressources personnelles .. mais je ne sais plus du tout ou j'ai pu glaner ces .wav à l'époque.
- Utilisation de librairies et codes externes : Non
- Temps passé : 1 journée répartie en 2,5 soirs
- Petit postmortem : j'aime beaucoup Phaser. Je trouve ce framework relativement simple à prendre en main, vite "rentable" (fonctions d'animations, de sons ... permettent d'aller vite) ... et testable avec un simple navigateur : j'adhère à fond !
par contre je galère sérieusement sur :
la portée des variables (je suis obliger d'en passer plein en global (bouuuuuh je sais c'est moche) et je vois bien que je passe à coté d'un truc ... )
la syntaxe des fonctions de type callback (vraiment pas naturelle pour moi)
les fonctions de gestions du temps ...même si je pense cette fois avoir trouver mes p'tites fonctions refuges qui semblent simples et fonctionelles ! oufff audépart j'en utilisais d'autres et ma perruque est désormais bien dégarnie ;-)